If you have lost your phone you may be wondering, now what? Don't panic you have several options. You do need to act fast, the longer you wait the less chance you'll have of recovering your phone. If you had your phone stolen read this post. The process is similar but we have a few extra tips to help you out.
First, did you have a tracking app like Where's My Droid installed? If not it will be harder to track, but it can be done. For more information on tracking your phone without an app installed view this post.
Using Where's My Droid to find your phone

There are two different methods to use Where's My Droid, either by texting or from the online interface called Commander.
Find with texting
Requirements:
Device must be turned on
The device must still have service in order to get the texts
Have opened the app at least one time to complete install
Using the texting option is the most reliable, but can be a little tricky to use. It's more reliable because it doesn't require the device to have a data connection and it can be used even if you didn't setup the app ahead of time (You still must have opened the app at least once on the device though).
To activate a feature simply send a text message from any phone to your "lost" phone that has the app installed on it. In this text message you will put your attention word for the feature you want to activate. Below is a list of features and their default attention words. If you changed your attention words you will have to use those instead of the defaults.
Ring – "wmd ring"
GPS –  "wmd gps"
Camera – "wmd camera front" or "wmd camera back"
Lock – "wmd lock ####" (#### is a 4-6 digit PIN you want to lock the device with)
Unlock – "wmd unlock"
Wipe – "wmd wipe"
Device Stats – "wmd stats"
The app will always text back with some kind of response from all attention words. If you don't get a response it can be because the phone is off, doesn't have service, or someone may have uninstalled the app from your phone.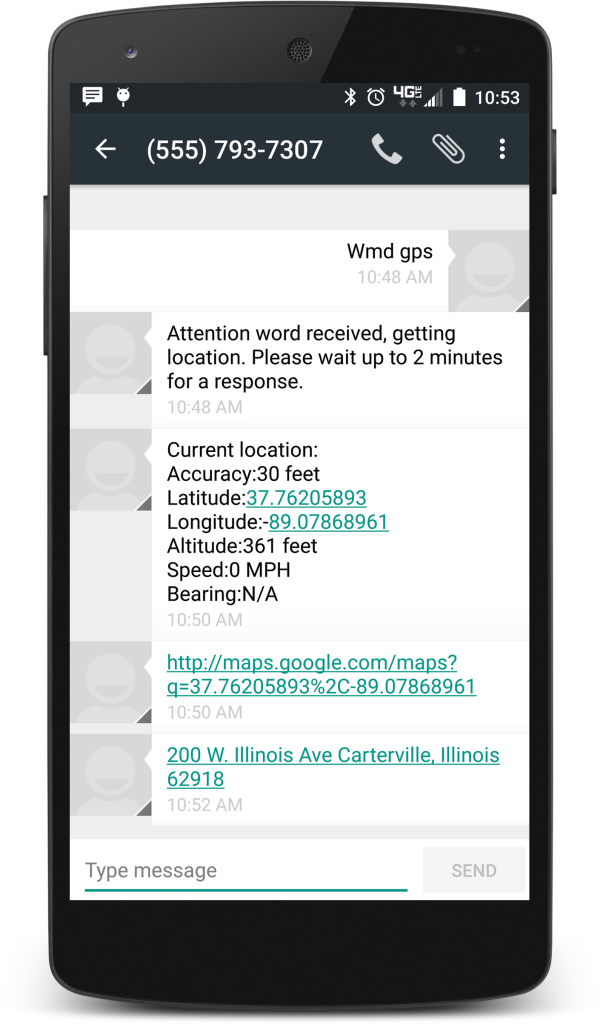 Finding with Commander
Requirements:
Device must be turned on
The device must have a data connection e.g. 3g/4g/wifi
Have the device linked to your Commander account
Commander is the web-based interface you can use to control the Where's My Droid app. It is the easiest to use, but requires extra setup a head of time.
To use Commander, simply login to your account at wheresmydroid.com. Select the device you want to track from the drop-down list in the top right. Click the "Locate" button to request the devices current location. A spinner will come up to let you know its working to find your device. Once it does it will display its location on the map. If not, it's either off or doesn't have data. Note that some power saving apps may turn data off to try and save power. This will prevent Commander from being able to communicate with the app. It's OK though, just wait a little while and most devices should turn data on every 10-20 minutes or so to do things like check for new emails. At that time the commands from Commander will be able to come though and activate the app.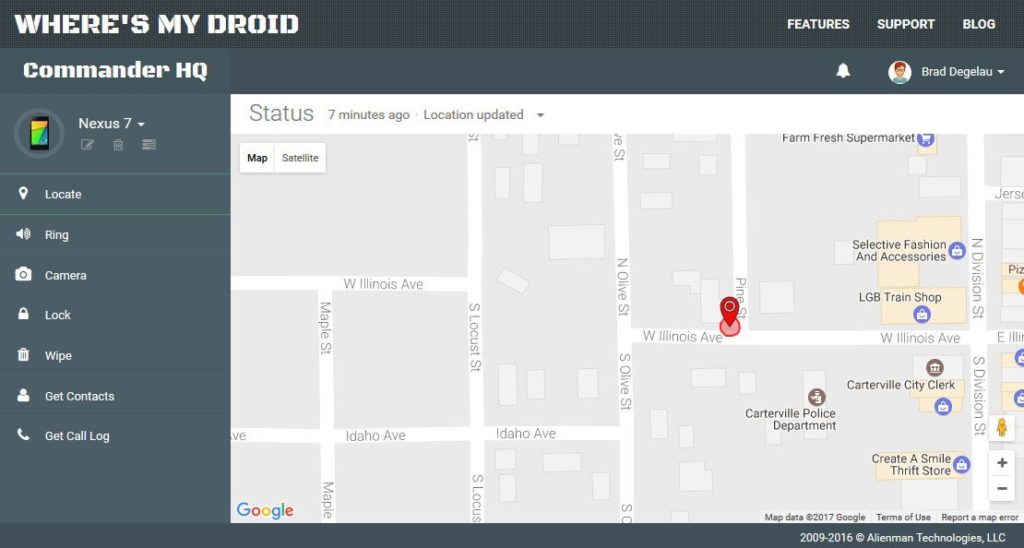 But what feature should I use?
Now you know the basics of using the app, but what will help you actually locate it? We highly recommend that you Lock the device first. This will prevent anyone from getting at your personal information as well as prevent them from disabling Where's My Droid. All features of the app will work just as well while the device is locked.
Now that your device is secure you can work towards tracking it down. The next step will be to get the GPS location. The app will try its best to get an accurate location, but if you have GPS disabled the app won't be allowed to use GPS, which is the most reliable method for the app. It will, however, be able to fall back to what we call network based location. This uses nearby cell towers and Wi-Fi to narrow down its location. You can also use the device stats to see the Wi-Fi networks the device is near.
Once GPS has helped you narrow down the location you can use Ring and Camera to find it. Ring will make the device ring at full volume so you can "hear" right where it is. The camera feature will take pictures with either the front or back cameras so you can "see" what the phone sees. Knowing what the surroundings look like you can better track it down.
Conclusion
Losing your phone can be scary, but with the right knowledge and tools getting it back can be a breeze.